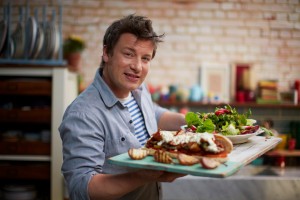 This cunt is currently all over the media because he has introduced a 10p 'tax' on sugary drinks in his restaurant, Hang on, since when did Jamie Oliver become the Chancellor Of The Exchequer? How is he possibly able to introduce a 'tax'?
He has put up his prices, that is all.
And as we all know, the tax on cigarettes, alcohol & petrol has made fuck all difference even though it increases more than inflation every year.
It appears the fat Essex toad-faced cunt cannot get a TV series commissioned, so he dreams up this altruistic idea to make him look like a good guy, when all he has done is increase his fucking prices.
What a monumental fat, speech impaired, anorexic fucking, greasy cunt.
Nominated by: Boaby

His restaurants are shite. Crap food with shite service. I speak from some experience.
And his 'Jamies Cafe' at Gatwick is a joke. Burnt bacon, cold eggs. A sausage sandwich with no sausage in one side and what tasted like minge in the other.
I shall not be returning to your vile outlets Mr Oliver. You are a crap food serving, fat tongued, pretend cockney ponce. And a massive cunt to boot.
Nominated by: Fleaboy