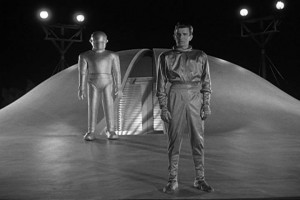 How dare they. They are classics, they'll always be classics; they may be classically good, they may be classically cheesy or they might even be so classically bad they come out the other side as classically brilliant. Here's my selection of originals that have been duplicating mincer:
The Day the Earth Stood Still
12 Angry Men
The Flight of the Phoenix
High Noon
The Italian Job
The Day of the Jackal
The Ladykillers
And The Railway Children. How could they take the daughter from the original and have her as the mother in the remake? Does that count as incest? "Daddy. My daddy." One of the best cinematographic moments ever. Add Brief Encounter to the list. kinell! A very sad old Cunt am I.
I'll tell you what it is. Some brainless degree in media studies halfwit with access to more dollars than taste decides the original made money, so, with his genius input the remake must make more money. No you funking brain dead cunt the original made money because people liked it. I'm sure you erstwhile Cunters will have exceptions, but this is a Cunting in defence of those that are not here to defend themselves. Fuck me! I'm so sad I can pick up the dialogue no matter where you drop me into the Ladykillers, I love: the characters, post war London scenes, steam engines, the rollicking good script, actors with training and presence, the wacky -could only be British- premise and most of all the gentle violence. One little old lady and five hardened criminals, what could possibly go wrong. The others have had similar sad butchering and it's just not good enough. Cue Bouncing ball and:
♫ We are the boys and girls all known as,
Minors of the ABC……………..♫
Just wait for The Madness of George Washington . The Cunts are fucking stupid enough.
A grumpy old dinosaur of a Cunt I might be, but at least I'm not a:
Classic film butchering Cunt.
Nominated by: King Cnut