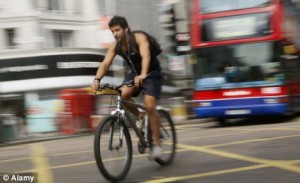 Anyone riding a bicycle over the age of 16 is a cunt. Not only do they not pay any road tax nor have insurance but they don't have to pass a test to ride on the roads. Not that this is a problem as most think its OK to ride on the pavement instead.
They don't stop at red lights and they view the rest of the highway code merely as suggestions which may be disregarded as it suits. They expect roads to be closed down so they can pursue their puffy hobby thus inconveniencing proper people who actually pay for the roads in the first place.
But the real clincher, the thing which gets right on my tits is their holier than thou, condescending and completely misplaced and erroneous assertion that they are actually doing something good, something worthwhile. They have evolved to a higher state of consciousness and are actually saving the planet and all us un-enlightened plebs from ourselves. Wrong, cunt! You are playing around on a kids toy and getting in everybodys' way while you are about it.
Nominated by: Fat Rich

WTF is it with cyclists who listen to their iPods while driving along the road. Do these cunts have a death wish? How the fuck do they expect to hear what's going on around them?
And headphone wearers are worst of all. Especially designer headphones. "Look at me! I've got £200 headphones on! I've got more money than sense, I'm a poser AND I have a death wish!"
Squash the stupid cunts…
Nominated by: Dioclese