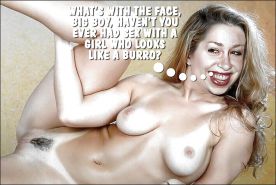 CHELSEA CLINTON – what a cunt!
The cunt has never had a (real) job yet charges around $75,000 (+expenses) for 10-minute speeches (usually about diarrhoea – not shit).
The fucking cunt is a third of the money-laundering pay-to-play Clinton Foundation, that has $500 million of donations on the books (and $3billion under the table), that the three Clinton psychopaths/sociopaths/rapists/killers/kleptocrats/petty-thieves/perverts/con-artists/Satan-worshipers use it as a personal tax-free slush fund. Less than 6% of the (charitable) Clinton Foundation goes to charity.
Everything about Chelsea Clinton carries the mark of the beast. The unholy filth even went to University College of Oxford (the giving anus of evil on Earth) and got some fake degree in fuckmupery from the shit monkeys that run the toilet.
Nominated by: Larry