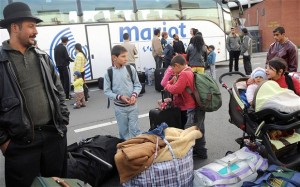 I would Like to Cunt Romanians, or Romaniacs as they should be known.
I have had a family move in next door. The Kids are nice but the parents? They are loud (hear the Cunts through the walls) and antisocial. I am sure the Father is a thieving Cunt as they have loads of wires in the back garden which appeared over time. I saw one of the elder Kids peeling them to get the copper or whatever the fuck metal it is.
Now don't get me wrong I am partial to a bit of Romanian, (Had a fling with a sexy Hotel worker in Cyprus) and generally the women are nice but a lot of the new arrivals here seem like Cunts. My neighbours don't seem to work, live in a two bedroom house with 5 kids, I wonder who the fuck pays for it all? Ridiculous.
Nominated by: Black & White Cunt