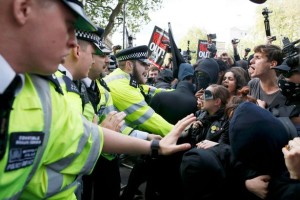 As Flanders and Swann so nicely summed it up : "The Welsh sing too loud, much too often and flat" so it's no surprise to find that Charlotte Church is a cunt.
Not because she failed as an opera singer, or because she changed to pop and failed at that as well, and not even because she's way too far up her own backside. So why is Charlotte Church a cunt?
Well, it's because in a desperate attempt to get herself noticed again, she took place in the demo against austerity which resulted in police officers being hospitalised and the defacing of the Women's cenotaph with the slogan 'Fuck Tory Scum' in red spray paint.
Yes, Charlotte was there and managed to get herself in the photographs and mentioned in the press. Well done, Charlotte. You can be proud of yourself.
So you see Charlotte, it's not just because you're a Welsh media whore that we dislike you. It's because you're a monumental cunt.
Nominated by: Dioclese