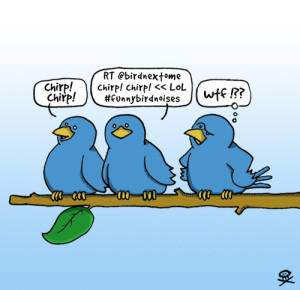 I'd like to nominate TWITTER for a good cunting.
The establishments control tool to kill freedom of speech, how many people have been rounded up and prosecuted beggars belief, every other week there is some 'troll' story in the media on Twitter yet the same media actually use Twitter as a 'source'.
For example, Anne Kirkbride shuffles off this mortal coil and ITV report that Ken Roache has posted "So sad to see the passing of Anne, RIP" on Twitter.
Fuck Off
Twitter has three purposes..
1. To kill free speech and cretinize the masses in to cramming their thoughts in to 140 characters
2. Breed a bunch of narcissistic, self absorbed cunts who believe the World revolves around them like they are a celebrity
3. To allow celebs to market their latest pile of wank TV show, film, song, dvd or book to the sheeple so they go out and purchase it, paradoxically this panders to the sycophants who brown nose celebs in the hope of a reply or retweet.
A self perpetuating pile of wank cluttered up with inane drivel to keep people engaged in the medias shite. As the TV show 'Why Don't You' famously stated:
"why don't you, why don't you, why don't you switch off your television set and go outside and do something less boring instead" and the same applies to Twitter, Facebook & Youtube
Nominated by: Prolapsed Anus