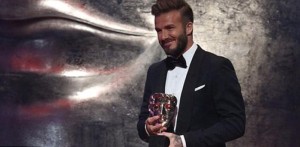 The BAFTAs is indeed a cuntfest…
Beckham at the BAFTAS?! He has a lot to do with film, television and theatre, doesn't he?
Beckham apart (and rather him than his revolting wife!), the BAFTAs
is much like the overrated and overhyped Academy Awards: a luvvie infested cunt gathering with mucho arselicking and expensive freebies being given out to already rich cunts.
Nominated by: Norman