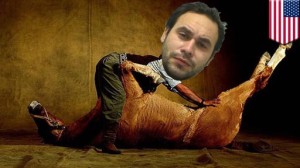 Jared Kreft – a man charged with possession of marijuana and giving a horse a blow job.
Kreft was discovered inside a barn with a marijuana pipe and a jar of petroleum jelly, according to court documents. He was also wearing a face mask and trousers with a hole cut in the crotch area. Police say Kreft told them he had been watching 'horse pornography' before going to the barn, performing oral sex on the horse there and then trying to arouse the horse with his hand.
Kreft was charged with sexual gratification with an animal sex organ, possession of drug paraphenalia, possession of marijuana as a repeat offender and bail jumping.
It is so far unclear who owns the barn and horse. Fucking priceless…!
Nominated by: Norman