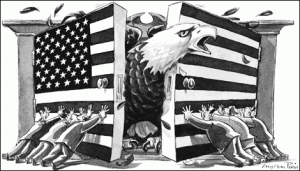 Vast arses squeezed into huge crap cars. Vomit sweet takeaway food. Coffee floating in liquid sugar. Huge portions glued together by cheap corn syrup.
A tide of salt, sugar and fat has swept the world. Cadbury's? Mega sweet fatty tasteless yankshite. Yankshite Mars bar or Coke new flavor? Add more fattening cunt syrup to hook the kiddies and their bloat arsed single mums on benefits.
NHS spending millions on beds and ambulances for fat fucks. Teams set up to winch lard cunts out of bed at home. PC brigade in there. Against their human rights to call them fat for crissake. Even Ryanair too scared to charge if a fat fuck needs two seats.
Roman Empire left us straight roads and civic architecture
British Empire gave the world railways and democratic government
And the American Empire? Face jobs and pig fat arses for all
Nominated by : Sir Limply Stoke