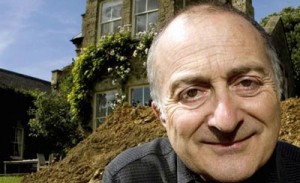 My old Eton fags recall union activist, crap actor, former Baldrick and Time Team presenter Tony Robinson emerging out of the right on rat holes of the 80s Brighton arts scene. Before that he did similar things in Bristol apparantly.
So Time Team has run out of time after 20 years but the endless repeats remain, padding out daytime Freeview scheduling where Tumbrils Tony continues to shoe horn in his marxist mantra alongside Carry on Cabby and Dickinson's Real Deal.
The March of Time Team starts with the svelt pig tailed Tony talking to da yoot, shape shifts into cunt with skid mark dyed beard and finishes with the current bald champagne socialist fat old fuck.
Time Team's legacy? Archeology for all? It has tought white van man to buy a metal detector and find the best sites to ravage for the car boot sale.
Tony Robinson, a cunt for the common man
Nominated by : Sir Limply Stoke
(And the cunt never had a cunning plan in his whole fucking life!)