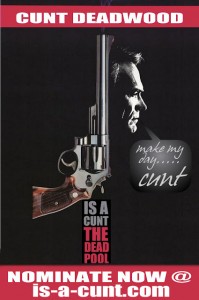 * * * * UPDATE * * * *
As Sir Limply rightly points out, we keep missing the target with this pool, so here's a quick rule change for this one only : Each entrant will be allowed a maximum of 5. I'm feeling generous because Limply's already had 4 goes.
Let's face it, you cunts have been giving me multiples anyway!
We have a winner!
The Dead Pool 4 has been won by Ollie Burton's Granddad
who correctly guessed the next cunt to kick the cunting bucket
… therefore becoming a dead cunt.
Ollie correctly predicted "Clive Dunn 92 not out but has to pop his clogs soon for fucks sake"
Well done! – Not least of all for stopping that cunt Dioclese winning three in a row!
Right then!
The slate has been wiped clean and everyone gets to pick
a new 'dead cunt walking' as we move on to The Dead Pool 5.
No rule changes but in case you're new to the world of
predicting bucket kicking cunts, here's a refresher:
1. Nominate who you think is next on the way out.
One Cunt each. Leave names in the Comments.
2. You win if your Cunt dies first.
Then the slate is wiped clean and everyone picks another one,
so my top tip is to be quick off the mark and
steal someone else's dead cunt candidate from the last Dead Pool.
Any cunt who tries to cheat by nominating the World's Oldest Man or Woman is a cunt and will be ignored. The winner gets a dedicated Dead Pool Champion post and kudos of cuntishness aplenty. Oh, and the usual "Our Blog Our Rules" thing applies.