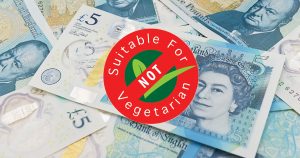 People moaning about the new £5 note containing some Animal product in them are cunts,
Been listening to some soppy cunt on LBC whinging about the new fivers containing animal product in them. He was saying that some Hindus are complaining now, I ain't got a problem with vegetarians as it's their choice but these vegan cunts are the taking the piss. I've said on here before they are pale as fuck (due to lack of protein) and that's the Black vegan cunts the White vegan cunts are paler than delux pure brilliant white.
Seriously this cunt was saying he refused to accept some change from someone because it had a new fiver in it. He definitely needs a kick in the bollocks, and a bit of beef for dessert. As for those Hindus, I bet they'll accept it in their shops, if it's their religion that's offended then fine I respect that but what if these cunts walk past a fried chicken shop do they hold their breath and then have a shower, and what about touching a door handle some cunt has touched after eating pork scratchings. They are probably touching meat residue many times a day the dumb cunts.
We need an uprising against these cunts, they are getting out of hand. With all the poor cunts struggling to heat their fucking houses and putting food on the table you get these cunts who are offended by anything.
We need to set up an educational facility for these snowflake cunts, it would begin with a kick in the bollocks for breakfast, beard shaving for dinner and a Twatter and Cuntbook ban all day. What the fuck is going on with these Vegan cunts. The fucking cunts.
I need a Bacon sandwich.
Nominated by: Black and White Cunt
(Any offended people, please send your plastic fivers to me and I'll give you a quid for them. Ed.)