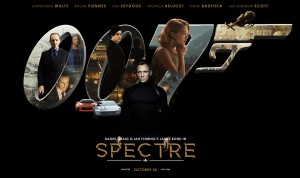 They can stuff "Spectre" where the sun doesn't shine.
I loved the Bond movies from a very young age, be they preposterous far fetched cheese-fests or not. Connery, Moore, Lazenby, Dalton and Brosnan (apart from his last one, though it wasn't Pierce's fault) Then suddenly 007 becomes a gloomy emasculated Gollum lookalike in an ill fitting suit, moping his way through joyless, tired retreads of older, better movies. Those cunts who smugly proclaim that Old Misery Guts is the "best Bond ever" are talking out of their arses.
And Barbara Broccoli is a cunt, her no-balls brother Michael G Wilson is a servile wimp cunt, screenwriters Neil Purvis and Robert Wade are cunts, Quantum of Solace writer Paul Haggis is a Marxist cunt, QoS director Marc Forster is a pretentious hack cunt, Sam Mendes is a Luvvie worshipping cunt with no idea how to direct action sequences, Lee Tamahori is a useless cunt who botched "Die Another Day" so badly that it destroyed the formula that had worked since the 1960s.
And poor old Cubby Broccoli must be rotating in his grave.
Nominated by: Mr Bastard