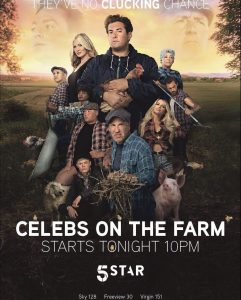 Celebs on the Farm, Celebs Dating, Celebs Gogglebox.
Any tv programme with the word 'celeb' in it is a guarantee of low-brow, low-quality, lowest common denominator cuntery.
My lovely wife joined me in bed one night (normally cause for celebration) but then announced that she wanted to watch one of these horror shows. I just couldn't bring myself to agree upon which she unleashed a torrent of abuse in my direction. The gist of which is that I gather that I am selfish.
I simply can not abide these utterly moronic side shows. The trailers are more than I can bear. In one for the farming fiasco a gay talks about sucking off a farmer which everyone finds hilarious. To me it is sickening. Thus I am a homophobe too. Not so, I just don't like vulgarity.
Gay men are fine by me but do they really enjoy being represented by effemes like Alan Carr or Rylan Clark?
Every 'reality' show you could think of has been done to death by celebs; untalented non-entities, mostly with estuary English accents and limited vocabularies, vain, thick and annoying. Neither entertaining nor even vaguely amusing. Just show offs taking the easy money route to eventual ignominy.
I do however have some suitable suggestions for celeb shows:
Celebs Jump off a Cliff
Celebs get up my Nose
Celebs go to Syria
Celeb Bakeup (one for Uncle Terry there)
Celebs Fuck Off and are Never Seen Again
Celeb Archery (with celebs pinned to the targets)
Pointless Celebrities (not a show just a statement)
Nominated by: Lotd Helpuss
.. and supported by: Mark 
Celebs (Cunts) on the Farm.
Although I never watch this, just the advert alone was bad enough to boil my piss. Just who the fuck do these cunts think they are? Kerry Katona???? Why are people still giving this loud mouthed, slut a fucking platform? Who are the cunts that actually watch this shit? These so called 'Celebs' along with their avid followers need to be pushed in a slurry pond and left at that.