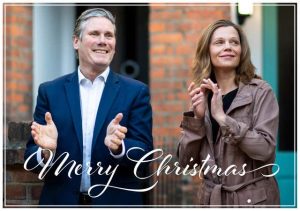 S'Keir Starmer, once again.
One of the things I hate most about the far left, is virtue signalling. They can't just support a cause, they have to make a big song and dance about it. And Starmer is one of the worst.
A few months back he and his rat faced deputy leader were photographed taking the knee in support of the Marxist BLM dickheads. Now he's released his official Christmas card as Leader (I use that word loosely) of the Labour party. It shows him and his wife clapping for the NHS.
First of all, that bullshit was over months ago. Second, why couldn't he just have a photo of the pair of them standing in front of a Christmas tree, with some decorations? We know he supported clapping the NHS, he wouldn't let us fucking forget it. Oh wait, that would be normal and, therefore, boring.
Fuck off, Starmer. Fuck all the way off, you cunt.
Nominated by: Quick Draw McGraw
(More here – DA https://www.aol.co.uk/news/2020/12/08/starmer-unveils-a-clap-for-carersa-christmas-card/?guccounter=1&guce_referrer=aHR0cHM6Ly9kdWNrZHVja2dvLmNvbS8&guce_referrer_sig=AQAAABHoY3vOmbQo4KVU7d8s8VDWf1zaM_Qe3K1LvjjfQBwodt37-OZbDALSRLHHz_AbeHIzQLg04pdlTY3F6PMpRJXPvIDCGYb1ADxYjvsRmOjpa6Bd0d_S3oFkfVIfxR7H5MSzG0eQT0CPserpiZd_5iQYWU1FVt3DRdA5O9c52Vr9)
…and this from Cuntstable Cuntbubble
Kweer Charmer.
Where to start.
He wanted a fire break- the science, the science. Sage says so. It must be done. Labour Wales did. No need to comment further.
He wanted an Xmas shutdown. Now he wants Boris to apologise for shutting down Xmas.
Brexit in which he led the Remoaning faction that hamstrung parliament he now seems to be watching to see what his hindsight can triumph over.
But his latest wheeze is a masterstroke. More devolution. Yes, an even more fucked up UK than it is at present.
The Jocks want out, this isn't going to change their minds unless he promises more and more money with less and less responsibility for generating that money. Like their covid measures I suppose.
There is no great appetite in Wales for devolution in the first place. At least in the populated post industrial areas. Opening it up is only going to encourage the nutters of Plaid. And Labour might find itself marginalised as in Scotland.
NI is a basket case of IRA loonies and religious bigots who would be best fucking ignored. Labour doesn't seem to hold any currency there anyway.
Sir Kweer Charmer, a fucking political genius.