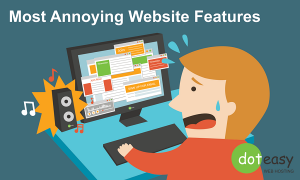 You're researching something on the interweb and find a web page that looks like it might have the information you're looking for. You click to it and start reading.
Then about 5 seconds in or if you scroll down, a fucking great rectangle of shit appears over what you're reading. Often inviting you to sign up for their newsletter or some other irrelevant shit you're not interested in.
To add to the annoyance, the usual X in the top right hand corner to close the fucker isn't there. They've put it in a different corner so you have to go looking for it.
Sometimes it'll be a faint colour on a faint background making it almost impossible to see, so you spend even longer having to deal with their cuntitude and not reading what you went there for in the first place.
Web developers who implement this kind of feature are cunts. Stop doing it. It's extremely annoying and makes it very unlikely I will ever visit your cunt website in the future. Thus reducing your traffic. So counter-productive then.
Cunts.
Nominated by: Imitation Yank
…and this from Norman
Clickbait is a load of cunt.
Those annoying as fuck pop ups that appear on the screen. Totally made up shite like
'The Tragedy of Richard Branson'. The only real tragedy being that he isn't dead.
'Jeremy Clarkson loses all his money'. Only thing is, he hasn't.
'Susan Boyle is unrecognisable now and looks gorgeous'. But she doesn't and she never fucking will.
These things are usually links to some scam or another and anyone with any sense just ignores them. But they don'y half irritate the fuck out of me.