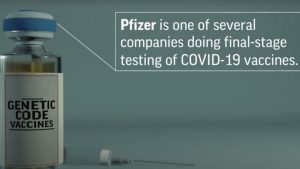 A nomination for the Vaccine Bonanza, you wait for months and suddenly three arrive at the same time (just like the old bus stop scenario)
In the space of a week, Pfizer, Moderna and Oxford/AZ are on the brink of rolling out a safe working vaccine. The first two are new tech with the latter being the traditional vaccine, The first has a bit of a handicap requiring storage at -80C and you need two hits.
Here is the good news, the UK government have ordered 40 million doses of the Pfizer one (net 20 million), 5 million of the Moderna vaccine and 100 million of the Oxford/AZ, so there will be enough to go around ………..
But! Who will get what and when, who will be first, will people be given a the choice of which vaccine they want, that will be the next step in the vaccine saga, fulled as usual by the media.
Stay tuned for the great vaccine scramble and to make it even more complicated the government have three more on order should they be effective and approved.
It will all be over by Christmas 202?
Nominated by: Sick of it