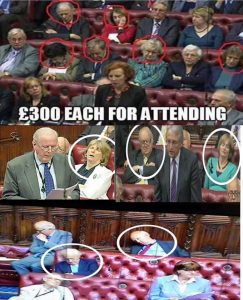 Just read a report that these cunts have spent £2 million on booze in the last 5 years.
Fuck me, that's cheap booze, subsidised by us as well as the cheap food they scoff in their subsidised restaurants.
What a wonderful little club eh? You turn up in the afternoon, collect your £315, have a kip on the red benches then go on to the "finest wines available to humanity".
Then, totally pissed, you get a taxi home, claimed for on expenses…….if you can fucking remember.
And what do these arselicking cunts do anyway? The only thing I can remember them doing is spending four years trying to fuck up brexit, that's the only time I can remember them brushing off the cobwebs and getting their greedy p*ncing noses out of a wine glass.
And there are more than 800 of these fucking parasites, a legislative body second in membership only to the Chinky commie "Parliament".
This institution is not fit for the 21st century…….a bunch of freeloading cunts!
Nominated by: Freddie the Frog
https://www.dailymail.co.uk/news/article-8943967/House-Lords-spent-nearly-2million-alcohol-five-years-figures-show.html