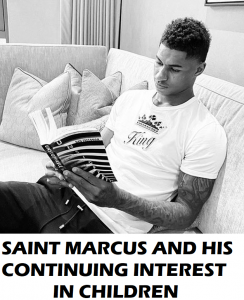 I would like to nominate:
Marcus Rashford (again)
From Sky News website:
Marcus Rashford launches book club so children can experience 'escapism' of reading.
He wishes he had been given the chance to read earlier in life. Ever heard of a Library, Marcus? The books there are free!! Pretty much every school also has a library.
He says he only started reading at 17. I could read perfectly well as a child. However, I had no interest in reading books until the last few years. You can't force a kid who has countless tv channels, x-box, the internet, or some rival gang member to stab, to be interested in reading.
Grrrrr. Rant over.
Nominated by: Robin Bastard