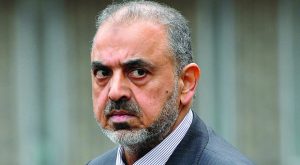 Lord Nazir Ahmed of Rotherham, Aka Lord lying, deceiving, sexual exploiting, money grabbing, all round unpleasant peaceful Cunt.
https://order-order.com/2020/11/17/conduct-committee-recommend-first-ever-expulsion-of-a-peer/?fbclid=IwAR0zkhKoZFKIFI05WSPjfCsrxXC7aS5_jSBC438GqkLEdTDZ17nHXD5j5cQ
What a thoroughly unpleasant chap he is; unless you follow a certain ideology that appears at times to condone such behaviours and even accept them as normal!!!
I had the misfortune many many years back of living close to this turd and the word on the street, (fuck me did I just say that? yuk ! Gossip), was that this filthy piece of shit had been over several years complicit in hiding the truth regarding the sexual exploitation of children in the town of Rotherham. Hmmmm
Reading through the article above whilst only circumstantially similar in comparisons :- "the fact that he did sexually assault the complainant on 2 March 2017" Guido Fawkes and lie repeatedly .. The question therefore of his complicity in ignoring the exploitation of the children in Rotherham does seem more plausible. I digress trying to avoid misrepresenting him. So put simply
He's a cunt he's a cunt he's a Cee Ues eN Tee CUNT.
Aka see you next Tuesday.
Nominated by: Everyonesacunt 
…and seconded by W. C. Boggs
I second Everyonesacunt nomination.
Be it noted yet another Anthony Blair appointee – most of them are either crooked or bent. Interestingly the BBC report makes no mention of the fact that this turd on legs is or was a member of the Labour party.
If he had been a Tory you can rest assured the report would have made that clear in line one: