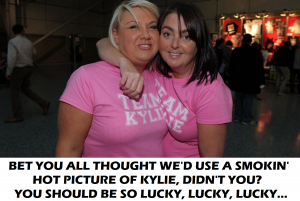 Kylie fans are cunts.
After a spot on review of Kylie Minogue's latest album 'Disco' her fans are 'outraged'.
The quite brilliant Spectator review starts with the words 'I've heard worse things — the death rattle of a close relative, for example: Kylie's Disco reviewed'.
Cue scores of 'Ooohs!' and squeals of 'How could you?!' from Kylie's near lunatic level fanbase. One upset response had me in near tears of laughter. Said offended fan wrote about the reviewer, 'I'm not sure he has any idea what it requires to stay on top of your game, and relevant for that long.'
Top of the game… As in churning out insipid watered down disco crap for over three decades? And relevant? She never was relevant or significant where music was concerned. Of course, the plank meant relevant to the LGBT54321 'community'. Which is where 99% of Kylie's fans come from. The sort of cunts that refer to Madogga as 'My Queen' and actually see her shite and Kylie's as decent music to be taken seriously. Someone at the Spectator called Kylie's 'music' out as the actual crap that it is. And as old Graham Taylor might have said, 'Fuckin… Did they not like that!'
Kylie fans. Nearly as blindly loyal and as loopy as Michael Jackson fans.
Nominated by: Norman