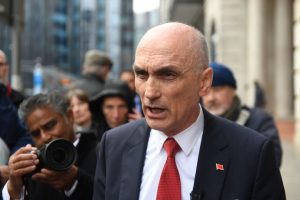 Chris Williamson, ex MP for Derby North is due a nomination.
Williamson quit the party Labour in November 2019 after twice being suspended within months after allegations of anti-Semitism and making disparaging comments about Labours 'investigation' into anti-Semitism.
Well, now Williamson is back, announcing the creation of a new political party that will be called, "The National Socialist Party".
No, it hasn't actually….wait what? The National Socialist Party? Founded by a known anti-Semite? That will no doubt attract other anti-Semites?
I'm sure I've heard this before somewhere. Oh yes, they were active in Germany from the early 1930's. Started a huge war that killed millions of people. They were led by some demented little one testicled twat with a shitty moustache.
If this far left complete bell-end hasn't realised the significance of using the words National Socialist in his party's name, then he really is too stupid to live. The complete lack of awareness of the images the name conjures up is staggering. It just goes to show that the far left actually are insane.
And Chris Williamson is a total cunt.
Nominated by: Quick Draw McGraw
(read all abaaht it – DA https://www.derbytelegraph.co.uk/news/derby-news/former-derby-north-mp-chris-4693726 )