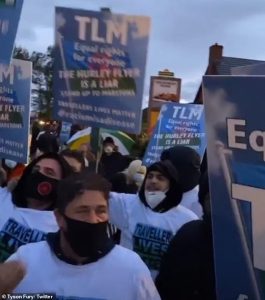 Pudgy pugilist Fury has involved himself in the TLM movement, which stands for travelers lives matter, a group that has been formed to address what they call racism, as they have been banned from some businesses in the north of England.
But it's not racism is it? It's about choice. You can't choose to be black (yet) or any other colour, which could set you apart from others who would express hatred for a different race, but you can choose a lifestyle that puts you at odds with a generally law abiding population.
Travelers aren't disliked for travelling, they are disliked for the criminality that they seem to find impossible to live without. Stealing, embezzlement, fly tipping on an industrial scale, and trespass are just a way of life for some travelers, and it's a choice to live that life.
Fury has threatened to get a million travelers to march through London, to protest this cause, which is bollocks anyway, as there are laws that won't allow discrimination against customers, even if the reasons are valid.
Perhaps Fury should have appealed to his people to live within the law, and earn respect, but it's not the travelers way.
Nominated by: Gutstick Japseye