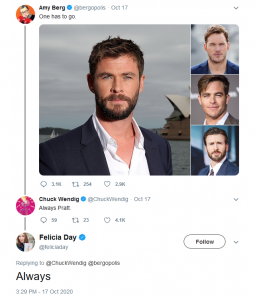 This concerns Chris Pratt an American actor. He has no strong political views it seems. But he does go to church.
That's suspicious to liberal Hollywood. He must be a Trump supporter.
Anyway the meme doing the rounds 'one has to go' (initially about Halloween candles) was used-three actors named Chris, 'one has to go'. Can't remember the names of the other two but they must have been solid Biden supporters. But an avalanche of tweets for Chris Pratt 'to go'. Or in that terrible word 'cancelled'.
It really has come to something that if you don't voice support for a candidate your career could be in jeopardy.
Robert Downey Jr. has come to his defence
Nominated by: Miles Plastic
…and with a slight variation on a lefty theme, seconded by: Two In The Stink 
I would like to second Miles Plastic's nomination but with slight variations on the theme.
I agree with Miles Plastic that people should not be discriminated against based on their religious faith and that any one-degree-of-separation-style association these lefty bigots are making about Chris Pratt's political leanings based on his religion are purely of their own making and show their own narrow-mindedness.
What's laughable is that these are the same fuckers who go on about privilege, bullying and the abuse of power against minorities and yet, without a hint of self-awareness, they do the exact thing to individuals in places where they hold the popular opinion be it California, Oregon, London or a digital market place such as Twitter (which is overwhelmingly left and progressive).
This is just bullying plain and simple……….. but I guess it's okay if you imagine the person holds the wrong opinion, then it's noble and righteous, stunning and brave.
In summary – Lefty hypocrites!
I'd also like to point out that although there was a massive slew of Pratt's Avengers co-stars coming to his defence, many of these people, although being brave enough to stand up for Pratt (by all accounts a stand-up fella) have themselves in the past stoked the flames of division by slating Trump and his supporters (millions of people they'd never met, but still assigned motive to the voting behaviour of complete strangers based on their own prejudices) for an example, see link below.
https://twitter.com/markruffalo/status/850429750044749824
@ Admin (please insert the following text after the twitter link)
(In order to see the twitter post, you have to refresh the page using the browser refresh button, not the twitter refresh button ….. because Twitter is all user-friendly and shit.)
But I guess it's okay when THEY do it because as Ricky Gervais once said at the Golden Globe Awards "ACTORS! I mean, they're just better than ordinary people aren't they?!"
In summary – Lefty Hypocrites.
…and thirded by:Quick Draw McGraw
The Leftwaffe.
The Leftwaffe deserve a 100 megaton cunting. Again. This time, they're going after the actor, Chris Pratt. And what has Christopher done to earn their demented hatred? Well, err…nothing. Over in the U S of A recently, the Democrats (HAH! the irony) held an Avengers themed fundraising event for Creepy Joe Biden and Kameltoe Harris. Chris didn't attend the event, and now he's public enemy No 1 as far as the Leftwaffe are concerned. Focussing on the fact he's a committed Christian, they've claimed the church he attends hates gayists, so now he's a homophobe, transphobe, racist, white supremacist, Islamophobe and a whole host of other 'ists' and 'phobes' that they've made up.
Happily, he's been defended by most of his Infinity War/Endgame cast mates, including Robert Downey Jr, Zoe Saldana, Mark Ruffalo (which is surprising, because he's one of the Reichsmarshalls of the Leftwaffe), Jeremy Renner and Elizabeth Olsen. Chris Evans hasn't said a word, because he's also a Reichsmarshall of the Leftwaffe. It hasn't stopped the lefties though, and many of them have taken just as much shit as Chris Pratt. Zoe Saldana has had it even worse, with some of these freaks actually calling her a 'c**n'. That's right, the motherfuckers who call US racists, are actually racist. Who'd a thunk it?
Talking of hypocrisy, how many of these failed genetic experiments do you think attended that fucking fundraiser? I don't have an exact figure, but I'm gonna take a wild guess, and say zero. These fuckers are, literally, insane. and that alone, makes them cunts.