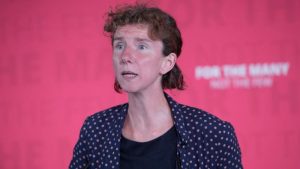 A hand-me-my-rubber-gloves-while-I-clean-behind-Steptoe's-fridge cunting please for this raddled old trollop, simply because her whining voice, the shit that comes out of her mouth, and the sheer grimy look of the old bag really upsets my sensibilities.
There is a great collection of pictures of her on this BBC piece, which shows the sheer horror of this alleged woman:
https://www.bbc.co.uk/news/uk-england-oxfordshire-52181653
Where to begin? The hair which looks as if it hasn't seen comb or shampoo since childhood, the piggy little eyes, the big hooter, from which you can imagine candlesticks drooping down the nostrils, the thin-lipped mean looking mouth, which hides God knows how many dental catastrophes, black broken molars, and the passageway to appalling halitosis, the skinny neck looking like it has been filched from a 90 year old granny, smaller tits than Tom Daley, which doubtless droop thanks to her poor little kids having at one time having to put their mouths to the rancid organs. It is best not to dwell on the piss-stained knickers which doubtless reek of rancid quim juice, and round the back the numerous skidmarks. Like the old cunt herself, they get washed on an annual basis whether they need it or not.
This "woman"(?) – a former PPE student at Hilda College, Oxford, is only 42, and is profoundly disgusting to see. She ought to be ashamed of herself looking so antique. She has no sense of dress, cleanliness or pride. She is a hag. She looks like the end of the world. Even Mother Theresa looked in better nick when they lowered him into the coffin.
When you look at the old fucker, you can understand why some men are homosexual. The idea of fucking this rust-bucket incites nausea. It makes you wonder at the lack of standards of her "partner" (and what he looks like – nothing on earth I imagine)
How dare she and Dame Kweer have the arrogance to inflict this human turd on us.
Nominated by: W. C. Boggs