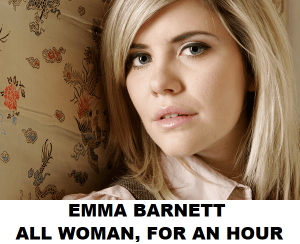 The BBC (yep, them again – admin) have announced a successor to Jenny Murray, doyen of the sisterhood, the plump woman who wears glasses on a string al la Larry Grayson and gives the impression she is looking down on everyone especially men.
The new head gal is Emma Barnett, she of the masses of hair (mostly extensions one suspects) and the long swirling mother earth skirts and bovver boots.
She's a good journalist but I question the concept of a "woman's hour". After all why is there no "man's hour" or "gay hour" or "black hour". Actually they did try one for men and it flopped. Men don't like to discuss their personal problems or health issues. But in any case aren't we all an equal part of society? Women are half of the population hardly a special group.
Whenever I have listened into said program admittedly for short periods until I reach for the dial it seems to be all about repression by men, #metoo, health issues, trafficking, transgender et al. Yes there are women's magazines too but they appear to be mostly celeb gossip rags now. The days of woman's realm featuring sewing projects and how to please your husband with a special dinner are long gone.
I question the relevance of a "woman's hour" programme which seems to be part of a sly political agenda designed to exclude men.
Nominated by: Lord Helpuss
("Woman's Hour"? Surely this is misandrist and offensive to some sections of the Alphabets? – DA)