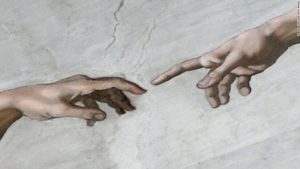 This is often mentioned in posts but I think iit deserves its own cunting.
I think there are more of these programmes because their cheap to produce in the Pandemic. Last night a programme on BBC 4 about Michelangelo. Presented by an Asian woman.
Anyway, 'Civilisation' with Kenneth Clarke used a lot. 'I am standing in the Sistine Chapel' Clarke said at one point. The voiceover -Well, we can see that'. Oh fuck off.
Another programme from the past-'Michelangelo painted on his back'. 'Well, he got that totally wrong he painted standing up'. It's the tone I hate. If the voiceover had said 'It was once thought that he painted it lying on his back but now we know…' But no. And you just can't help the feeling that they're saying these pompous white men of the past got it all wrong.
'Are You Being Served' they did a programme on. Once again the patronising tone. As though- 'they didn't realise what they were saying back then, bless them…but you can laugh at it as long you understand the outdated attitudes'. Two Asian women again. So I went from laughing at Mrs Slocombe 'will you look after my pussy' to an Asian woman telling me that it's OK to laugh at it if you don't take it too seriously.
'You wouldn't get away with it now' they kept saying. Yeah when someone calls someone a 'fucking shithead' ('9 cats out of 10 Cats). You CAN get away with that but not silly Mrs Slocombe and her 'pussy'.
Even Victoria Wood was guilty of this painstakingly laboriously explaining to us the the subtle relationships of Dad's Army characters. As though -'there was funny things in the past, give it a go'.
The worst sort of show for this is What We Watched In The Seventies. There they all are squirming in their seats at the appalling carrying ons back then. Fuck me it's the mildest stuff imaginable and there they are all appalled. Oh fuck off.
Nominated by: Miles Plastic