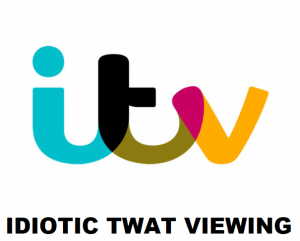 Larry Grayson's Generation Game, Jim Davidson's Big Break and Cilla Black's Blind Date – Saturday Night TV, non-political light entertainment. What do we get now? Britain's Got Talent, in particular Diversity taking the knee over the throat of one of their dancers in some protest of George Floyd for BLM, and a load of kids singing about climate change, politicising the minds of young children on prime-time ITV Saturday night. We're doomed now that ITV have finally joined the BBC, Channel 4 and Sky in being hijacked by a load of Left-Wing snowflake "woke" producers, presenters, hosts and talent telling us what to think.
Nominated by: Cunt me in
And seconded by: Captain Quimson
Second that.
Was visiting my old neighbour, he's in his late 80s and is widowed so I pop round, normally have a few shots of Bells and fuck off home at about 11, when I went round the old boy was watching BGT, not my cup of tea (don't have a TV anymore) but I thought I could put up with it, after watching some retard trying to juggle I almost felt like slitting my throat, but worse was to come, Fucking DIVERSITY innit blud, I was hoping for some Al Jolson twirling cane cabaret, no it was a bunch of lefty kaffirs whinging about not getting anywhere because they were blek, as opposed to being lazy, entitled, speech impaired cunts, fuck the aptly name Ashley Banjo and fuck these race baiting extras from Zulu!, utter cunts to man and beast they really are!