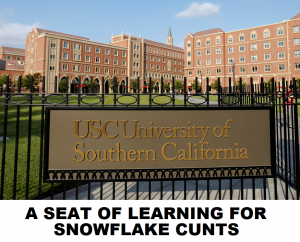 "Good afternoon. This is IsAC's political correspondent Ron Knee speaking. Today I'm joined via video link by a student representative from the University of Southern California, regarding the suspension of one Professor Greg Patton for using a term which has apparently upset a number of students. My interviewee wishes to remain anonymous, so I'll refer to her as Ms X. How are you today?".
"I'm shocked. In fact, I'm like shocked and offended. Offended and outraged. Outraged and disgusted. Shocked and offended and outraged and disgusted!. The whole thing is like utterly vile!".
"I see. Could you elaborate for our followers? Provide a little context…".
"Yeah. Well, this fascist pig professor was like giving a lecture on 'filler words' that are used in various languages, and he *choke* used the Chinese word 'neige' as an example. We were like mortified".
"Okay, let me get this straight. As I understand it, the Chinese use 'neige' in a similar way that 'um' or 'ah' is used in English. It might be used as a 'pause' point during a negotiation, for example. It's a completely innocuous expression. Hardly a hanging offence, surely".
"No! It's a vicious racist term, 'cause like it's pronounced 'nee-gah'! That's like 'n*gger'! It's hate speech! We feel threatened!".
"Oh for goodness' sake. I understand from reports that students threatened to withdraw from class rather than (quote) 'endure the emotional exhaustion of carrying on with an instructor that disregards cultural sensitivities' (unquote). I'm afraid that this will strike a lot of people as nothing more than authoritarian p.c. posturing; it looks narrow-minded and vindictive".
"How dare you! I'm outraged and appalled, you… you fascist!".
"Come now! It's also reported that you're alleging that (quote) 'our mental health has been affected' (unquote). You can't be serious!".
"Nazi! The faculty agrees with us, and has apologised. It acknowledges that like the whole awful, outrageous incident has caused great pain and upset among students. We now demand support measures for like any student who requires assistance and reassurance".
"Well if the faculty has indeed apologised, I'm forced to say more fool them. I'll also add that this whole sorry story points to nothing less than sheer stupidity and utter childishness on the part of the students concerned. It's a joke, complete 'woke' nonsense".
"Pig! Racist! Black Lives Matter! You and your vile fascist site are now cancelled! *Boo-hoo!* Safe space! *Sob!* Safe space! Help… fascist beast on campus! No platform! blah".
"Well thank you Ms X for those enlightening comments. I'm sure that our followers have found them extremely entertaining, and we hope that you'll be able to find suitable counselling to prevent you from being permanently traumatised by your terrible ordeal. This is Ron Knee, for IsAC, returning you to the studio".
Nominated by: Ron Knee
(classic Ron Knee – well done mate – admin)