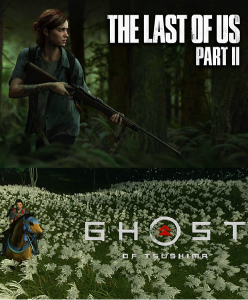 Woke gamers, and those who pretend to be gamers are cunts.
I'm not a gamer myself, but I've been following a couple of stories on some YouTube channels that I'm subscribed to and I find them simultaneously hilarious and pathetic.
About three weeks ago, a post apocalyptic game called The Last of Us 2 was released after a fuck ton of controversy. The game was made for Sony by a company Naughty Dog. The chief designer, Neil Druckman is a woke as fuck soy boy, who took what was apparently a very popular game, killed it by making it woke and then raped the corpse.
The biggest issue that fans had, was that a much loved main character was beaten to death with a golf club, by some fucking creature called Abby that is either female or trans (jury's still out on that), and jacked up on some serious steroids. Seriously, Arnie would be jealous of the thing's physique. To make it worse, gamers then had to play a large portion of the game as the killer. To be fair, the game did break sales records when it was initially released (cue much gloating and celebration from the Wokewaffe), but it's not doing so well now.
Then last week (it's July 25th now) a game called Ghosts of Tsushima was released. It's set in feudal Japan and by all accounts, it's brilliant. Things were fine, until it was announced that the game's sales had surpassed the Wokewaffe favourite and that the Japanese themselves love it and, predictably, the Wokewaffe went into meltdown.
Apparently, despite the fact the Japanese have no problem with it, the game is cultural appropriation because it was made in the US, by white people. The Japanese themselves do not escape the demented ire of the Wokewaffe, who are busy pointing out the Japanese are evil because they spent the first half of the 20th Century engaged in colonialism and being nasty.
Oh yes, and American gamers who are of oriental descent are whining that non-Japanese people are putting more stock in the opinion of actual Japanese people of a Japan based game over their own opinion. Yes, and?
Inevitably, the game is now being review bombed online, with people adding a 10/10 review for The Last of Us 2, but scores of 0/10 and 2/10 for Ghosts of Tsushima, with no reviews for other games. Hmm, nothing suspicious there. Would you like a dummy while you type your reviews? Maybe you should ask mummy to change your nappy.
Seriously, these people are fucking pathetic. Getting all upset because a non-woke game is outselling a very woke game. That's life motherfuckers. Fucking childish cunts.
Nominated by: Quick Draw McGraw