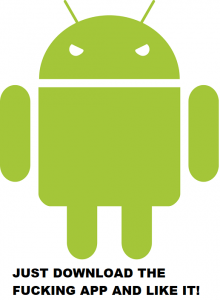 "Use the App!"
I am seeing this far more often these days. The banks, supermarkets, DIY stores, airports, trains blah blah blah.
Now being a techiehead, I really don't mind these apps, not that I download them all because despite the assurances from the owners of these things, they're far from secure, and can easily be hacked if you know how.
But what really pisses me off is how the owners assume everyone has access to the internet/4G and a tablet/phone!
If you're young then this probably won't be a huge issue; but if you're in your 50s+ or not of sound mind, you may feel rather unnerved/confused by all this new technology; not least having to remember two-tier authentication with password, passphrases and/or pin numbers.
Not far from me Copeland council are introducing an online booking system using an app for their household waste and recycling centres. So rather than just turning up with your car full of junk, you now have to book a slot before you're allowed on the site.
Similarly, an off-road secure carpark area near me, is only accessible via the online app where you have to pay online and display a barcode on your phone, which will allow you on. There is no ticket machine nearby as you might expect. So again, it will cause more confusion and annoyance. On top of all that, by using the app from your phone, you're leaving digital breadcrumbs of what you've been doing, how much you've been paying, where you've been and when! Such information will be farmed out to 3rd parties, and you'll be spammed senselessly with appropriate shite!
Oh, and if you're phone is stolen, and isn't properly secured, then some cunt could play merry hell with your apps – especially banking ones!
If you know what you're doing apps can be very convenient. But essentially you're putting all your "electronic" eggs in one basket. And if that basket is stolen, hacked or fails, then you're buggered!
Nominated by: Technocunt