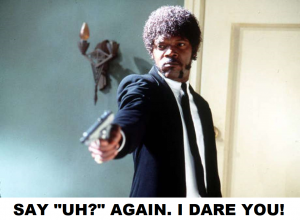 Uh ?
If you misheard what I said, weren't bothered to listen properly, or simply lack the mental capacity to formulate a coherent response without the need for some extended 'thinking space', then the phrase you are looking for is:
"Pardon ?"
"I beg your pardon ?"
"I humbly crave your forgiveness, Sir"
Not "Uh ?". You ignorant, cloth-eared, neanderthal cunt.
Nominated by: Cunt Reviled