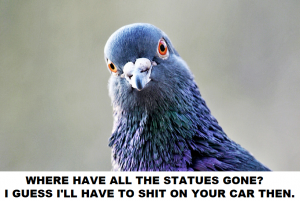 Pigeons.
After enduring months of lockdown dog days, the wife and I are looking forward to heading off into the quiet beauty of Northumberland for a 'socially distancing' cottage break.
This morning I spent an hour giving the car a thorough clean inside and out by way of preparation, and it gleamed like new. But returning from putting away the sponges and buckets, what did I find? A fucking manky, flea bitten pigeon sitting on the car roof is what I found. The cunt saw me coming and promptly took flight, leaving behind a spray of shit on the roof, windscreen and bonnet.
Now I'll admit that just occasionally, I do feel a twinge of pity for these flying rats. It can't be an easy life, hobbling around on rotting feet, scavenging a living by pecking at a pavement pizza. Then at the end of a weary day, it's back to the comfort of your rusty, dripping railway arch, to relax on top of a six inch pile of your own rotting shite.
Sympathy tends to be short lived however when you have to return to your newly washed car to shift dollops of cack from it. Don't even get me started on the damage that the bastards do in the garden…
My birthday's coming up soon, and when the missus asks me what I want, I'll ask for a powerful air rifle to clear the vermin from around the house. That'll learn the cunts.
Nominated by: Ron Knee