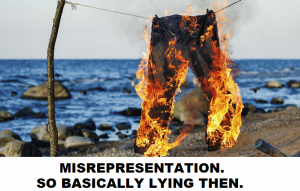 Media misrepresentation.
I believe that Media misrepresentation is overdue a cunting on these hallowed pages. I will start by pinpointing where I believe the problem first started in an obvious way. It was 1976 and the late Ian Smith gave a press conference in Salisbury (now Harare), in Rhodesia. We saw the complete press conference where he gave the speech. Famously I believe a British journalist asked him when black majority rule would be implemented. Most of the world heard the answer, "I don't believe in black majority rule ever in Rhodesia not in a thousand years, I believe it will be a disaster for Rhodesia".
If you saw that arrogant response on your TV you'd think what a cunt, but this was an edited sound bite taken out of context designed to undermine a logical sensible point which now has been proven, with the passage of time, to be 100% correct. It seems to be the MSM who indulge in this shit, pretty much anything that doesn't fit the neo-Marxist agenda is vilified and misrepresented. The latest victim of this witch hunt is of course the Tangoman. The cries of facist, racist and mysoginist are bandied round by media outlets as well as blue haired, trigglepuff types. It's designed to make people think something that is not true, but cherry pick sound bites to fit the agenda they're peddling. Thankfully the silent majority see through this, and are not so easily fooled anymore!.
So old Ian you can rest assured wherever you are (not religious myself) the phrase "Smith was right" is now said more than ever throughout the illegally occupied Rhodesia and the world. I think those that misrepresent people's views for their own agenda should be thoroughly ashamed, but they must not understand shame. Cunts to man and beast these purveyors of mistruths really are!
Nominated by: Captain Quimson