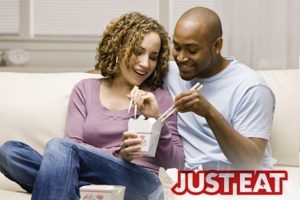 There is an advert for Just Eat which shows a blinged up bleck pimp surrounded by ho's.
What exactly did the Tristrams and Jemimas of whichever creative London agency have in mind?
Is the target audience the dimmer members of the chiggun demographic who set their sights above rap and architecture as aspiring pimps?
Do the ad agencies look at the other ads and think the UK population is now predominantly bleck?
Did Jemima and Tristram not realise that this stereotype is probably offensive to any decent blecks not taken in by BLM horseshit?
Would any fucker watching outside of the dimmer chiggun demographic want to identify with this repulsive pimp?
Perhaps they will come up with a cute little mannequin for Jam as their next brain wave.
Nominated by: Cuntstable Cuntbubble 
And seconded by: El Spazmo
A cunt of an idea. It's a delivery service for idle, fat cunts that can't be arsed going for their own junk food. What kind of fuckwit uses it? I can imagine James Corden is a regular customer.
Did somebody say just eat ?
No, they said just fuck off.