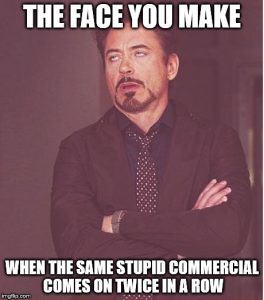 A Very High Frequency cunting for Commercial Radio Adverts please.
During these 'strange times and new normal' whatever the fuck that means, I find myself working from home and increasingly listening to the commercial wireless radiogram, a choice of channels from Planet Rock to Classic FM. Now a lot of these stations are part of the Global Group, an organisation almost as bad as our friends the BBC, but they are commercially funded, unlike the teletax funded robbing Beeb and so this means adverts. Three in particular that get played over and over again boil my piss. Usually every 20mins and syncrhronised across the network.
HSBC, 'We are not an Island' this pile of fuckwittery is voiced by Sandy Tokscunt, the horrid Scandinavian dyke Harradin. To me, its an advert that tries to gee us (the listener) up post the chinese bat flu and the dark times, but is actually a pointed dig at little England post Brexit. Go to fuck HSBC and Tokscunt, last time I did geography, England was a big part of a great island.
McDonald's adverts. Who eats that's pile of steaming scrapes from the abattoir floor anyway? And with that fella who does the advert with his false matey mate voice coming over the airwaves every 20minutes, it boils my piss. No I don't want a Maccy Dees fucking eggs mcflurry double cheese milk shake, you cunt. Nor I am I waiting in a drive through for the 'privelage'
Finally, the O2 'Pay as you Glow' advert, voiced by one of the dark keys or Jigaboos who can't pronounce his words correctly and keep droppin tha last letta from most of wat he is sayin. That's of course when you can hear anything from the vocal above the din of the jungle jive being played in the background. Not sure who this piece of radio airwaves generated excrement is aimed at, but it sure ain't a white male who is middle aged working class and tax paying.
I'm gonna build myself a personal faraday cage to insulate me from the rape of my eardrums.
Marconi must be spinning in his grave, the cunt.
Nominated by: LeonardoDiCunty 
.. and on a very slightly different tangent, but covering the same kind of area
I want to nominate TV channel hopping, because no matter what time I do it, I always land on a commercial break, usually right at the start of the break and it goes on for a good five minutes. Then the next channel has exactly the same adverts in the same order. The exception of course being Auntie Beeb, but who wants to watch that?
Nominated by: Mystic Maven 
…. and another take from Lord Helpuss…
Daytime Digital TV ads are due for a nomination.
There are some cracking retro TV channels like Talking Pictures which shows a lot of classic films and series. Even in monochrome they are miles better than most of the modern shite we have to endure on the BBC/ITV axis. Proper scripts and stories, real stars.
One thing spoils them. The bloody adverts in between. Naturally aimed at the older viewer they consist of funeral plans, motorised buggies, bladder-leak pants,  travel insurance for fogies. Invariably, the actors depict the target audience as one step away from entering second childhood or dementia. They witter on excitedly about payouts and comparisons in a way that indicates how much they are looking forward to their own demise. They talk to each other like they have swallowed the brochures (old folk still love brochures) and are spewing out the words therein. Natural conversations they are not.
Then there are the endless charidee ads which are even more depressing. Little kids of colour drinking filthy water, tigers being shot, donkies being abused. It's all guilt guilt how dare you sit there in your armchair with all this suffering going on? You selfish old sod. OK you've worked all your life, paid lots of tax but you can't keep all your money to yourself. OK you help your kids and grandkids out but even so… give us your cash grandad.
If you are stupid enough to give in and buy an exit plan they will pester you with letters suggesting you up your premiums. Or if you give to a charidee they are such caring people that they will pass your details on to all the other begging bowl hyenas to hound you just like they did to that poor old woman who ended up giving away everything and dying in a ditch.
Yes I can mute the sound until my programme returns. I'm probably the faster muter in the east, pardner.
But I like to keep track on how truly awful these ads are. And they are BAD.