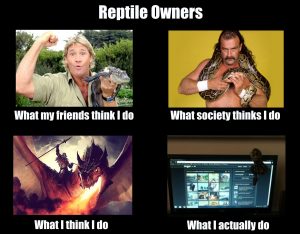 A gargantuan 30-feet constrictive cunting please for exotic pet owners. I'll endeavour to keep this short and sweet . . .
Who the fuck do these people think they are, keeping all manner of ugly, dangerous fucking animals in captivity in their own shitehole abodes?!!! I've seen some programmes on the idiot's lantern featuring said pet owners, and they all had one thing in common: cuntitude.
In addition, their dwellings in which said animals were ensconced were fucking dirty hovels (no doubt they'd be dirty hovels without the pets) and came across as entities with barely double digit IQs.
I suppose these bottom feeders think they are being cool, or hope by keeping these awful, ugly things in their houses that it gives them a higher social status or something? Who the fuck knows! However, all it does is reinforce people's opinions that they are even bigger cunts than they thought possible.
I mean, for fuck's sake, how empty and desperate do you have to be to feel compelled to actually go out and buy one of these pets?! There are even certain individuals (here in the U.K.) who obtain special licences for animals such as boa constrictors, jaguars and alligators, for example — which I'm led to believe is very expensive and very time-consuming . . . and, unbeknownst to them, very fucking stupid and very fucking sad!
Who the fuck needs special pets, especially dangerous ones!!? Stupid, sad attention-seeking cunts. Fuck off!
Nominated by: Fanny Batter