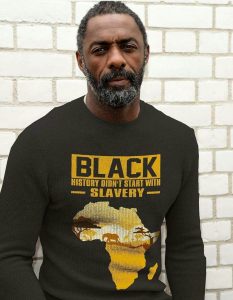 Idris Elba is a cunt, isn't he.
Mundane, one-dimensional actor Idris Elba, will be receiving a special BAFTA award for his contribution to television. Elba, known for some dreary detective shit, tedious Sky TV adverts, and The Wire from fifteen years' ago, will be honoured for his creative contribution to the small screen. Yes, it won't be for the big screen. "No maan, I'm too old to play Bond." Riiight, keep telling yourself that's the reason, and nothing to do with being a mediocre, one-trick pony.
BUFTA will honour the 47-year-old actor for using his influence to push for further diversity in the cinema industry. Diversity, eh? I wonder whether he helps young whiteys who are attempting to break into acting but who are poor. Naa, fuck dem crackers.
He's also recently said that "racist shows from the past should have warning labels on them." Really? Who decides whether they're racist? You? Could we also have labels for other shows?
Warning: This episode contains a token, marginally-talented, banal, woke cunt.
Nominated by: Captain Magnanimous