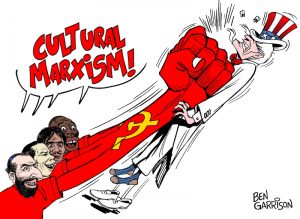 I think it fair to say that Marxism lost the economic argument decades ago. It lost its glister for all those disillusioned millions waiting in a mile long queue for a loaf of sawdust bread or a shabby pair of cardboard shoes.
Still, this minor setback wasn't going to discourage our rabid class warriors, and they're now drip-feeding their poison into the body politic by a different means. The old 'class warfare' conflict between economic groups has taken on a broader range, and 'Cultural Marxism' is really making its presence felt. Now, it transpires that just about everybody is putting somebody else down through group oppression; men oppress women, whites oppress blacks, hetros oppress gays, wimminz oppress transgenders etc ad nauseum. You know the drill. Nobody is an individual anymore, that definition of your identity doesn't count. It's all about being defined according to group identity, and hey presto, you too can become part of a poor, victimised minority and shriek about getting your own safe space! 'Identity politics' is the new black (no pun intended).
Naturally the proponents of Cultural Marxism assert that really, it's simply all about tolerance and justice, respect for the rights of others, just common decency. But woe betide anyone that dares express a view that doesn't rigidly conform to the Holy Writ as dictated by the Thought Police.
Deviation from the word calls for you to be vilified and ostracised, shouted down as a 'fascist', 'bigot', and 'racist'. There's no platform for you, you fucking Nazi, you're cancelled. That goes double for white, hetro male Nazis.
I regard Cultural Marxism as the political and social equivalent of Covid-19. Its adherents recognise that they can't carry their argument through the ballot box. Instead they have sought to spread their ideas insidiously, seeking to replace objective analysis with doctrine and to curtail free speech with an increasing use of their own programming 'Newspeak'. Ergo, you control the agenda.
Academia and the media in particular appear to have been targeted. Also,my own take is that extremist groups such as the SWP, Class War and Antifa are looking to infiltrate and hijack the likes of BLM and the environmental movement to use them as vehicles to push their own loony tunes 'smash the system' agenda. Increasingly, they're taking to the streets to impose their will through intimidation and violence, yet the ultimate irony will no doubt be an attempt to claim that they're actually 'victims' of some 'far right conspiracy' themselves.
I don't think it an exaggeration to say that these relentlessly vicious authoritarian cunts have declared war on the likes of you and I. Their group identity is a pack of ravenous wolves, and right now they sense an opportunity. They have the scent of blood in their nostrils and it's ours, so we'd better wake up to the fact, but fast. As Trotsky once said, 'you may not be interested in war, but war is interested in you'.
Nominated by: Ron Knee