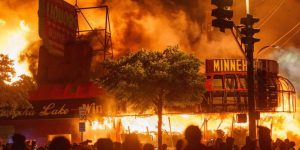 I have no idea of the rights and wrongs of the case of George Floyd but from the early pictures I have seen the instigators of the riots appear to be white. I have no doubt some oppressed black people will have joined in. Probably for a bit of late night shopping but why are young white fuckers kicking things off? Could it be an excuse for organised, anti Trump bullshit? If so these cunts are far more insidious and destructive than any ghetto inhabitants.
Nominated by Cuntstable Cuntbubble
The Minneapolis Police Department are CUNTS.
Now, I will be the first to admit, that I don't know all the ins & outs of the George Floyd incident.
I don't know if he did buy cigarettes with a fake $20 at 20.01
I don't know if he 'resisted arrest' at 20.14
I don't know why a police officer felt in necessary to draw his handgun, while accompanied by 3 other police officers, whilst detaining one un-armed man suspected of a relatively minor, un-violent crime. – (I know that I would find it strange in the UK, if a team of armed response police officers were needed to arrest someone of passing one note of counterfeit money in a newsagents).
I don't know why 4 armed police officers felt that one unarmed man, handcuffed, lying face down in the street, represented such a threat to them.
I do know, that people nearby, filmed the police officers conduct, and drew attention to the fact that Mr Floyd was having difficulty breathing.
I do know that officer Derek Chauvin knelt on Mr Floyds neck for 6 minutes, and after being told Mr Floyd was not moving, and another police officer checked Floyd for a pulse & failed to find one, that officer Chauvin knelt on Mr Floyds neck for a further and a half minutes. Officer Chauvin removed his knee at 20.27
I do know that George Floyd, a 46 yr old man, who had buying cigarettes at 8pm, was pronounced Dead, just 90 mintues later.
I do know that The Minneapolis Police Department released a statement regarding Mr Floyds arest, that detailed him being detained, expressing his difficulty breathing, officers calling for medical assistance and Mr Floyd later dying in hospital – no mention of a 20 stone police officer kneeling on his neck for 9 minutes.
I do know that the legitamate peacefull protests, subsequent looting and eventual violent riots, have cost substantially more than $20.
Nominated by Lord of the Rings