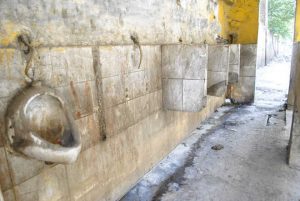 Splish splash you´re having a slash, staring stoically straight ahead. No peeping to the left or right in case your neighbor gets the wrong idea and thinks you´re sizing him up*. What bothers me now is that I tend to hang around for what seems like hours shaking off the final drips and giving the impression that I am waiting for some homo action. This is because I had an operation about 10 years ago which basically circumcised me and left no handy little foreskin space where droplets could linger.
Nowadays, a pee followed by a brief feeble shake then tucking the snake back into its place usually results in a rivulet of amber fluid down my thigh and a give-away stain on my trousers. For this reason I try to avoid public urinals in bars, restaurants, cafes etc. In countries like Brazil it´s common to see pissers openly wiping and drying their cocks with paper towels but it´s not a practice I´ve seen in Europe or the US.
*BTW, Lenny Bruce once said the ending of desegregated bogs ("restrooms" in American speak) destroyed the myth that blacks had enormous dongs. But let´s not go into that in case we offend Black Cocks Matter.
Nominated by: Mr Polly