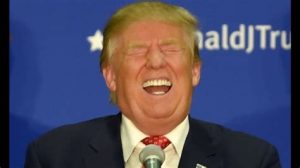 Trump Dissenters:
I'm perplexed as to why so many British people are obsessed with Donald Trump. These social commentators need an 'extra-large cunting of apple pie' cunting.
I find President Trump mildly amusing and struggle to understand why so many Brits genuinely hate him. Surely, there are worthier targets than him, by way of Country leader.
Kim Jong No! Our favourite "Rocket man" is shunned, sanctioned and constantly jibed about his looks, height, fanny parted hair and his crappy excuse of a Country. Constantly talking bollocks, Britain at best pretends not to notice him and at worst extends pity where detestation should be, as he improves the daily odds of nuclear Armageddon.
Let us consider "Mugabe-esque" President Mbasogo of Equatorial Guinea who took power in a violent coup d'état in 1979. His cunt of a son is in line to succeed him and blows millions in government funds on a celebrity lifestyle whilst 1 in 5 children die before their fifth birthday. The surviving 80% of kids have no access to medicines, education or even clean drinking water.
What about Vladimir? Flying his retro 1960's 'cold war' bombers near our airspace. Popping over to blighty to kill his ex KGB comrades whenever the fancy takes oh, and having small beady shark like eyes like 'The Predator'. (The film not Sir Jimmy Wilson Vincent of Savil) puts Putin above Trump for a merited loathing surely?
King Mswati of Swaziland – Who? Sub-Saharan Africa's last absolute monarch presides over a country which has one of the world's lowest life expectancy at 33 years. All riddled with Aids apparently. The majority of people live on under a pound a day and unemployment tracks at 40%. King Mswati uses his kingdom's treasury to fund expensive tastes in German cars, first-class global travel and on his eight wives.
Mention the C word, and their recent contribution to global mortality rates and you are classed as racist. I guess the British public will continue swiping at Trump, in the knowledge it is unaffecting US sentiment and he that probably doesn't give a fuck anyway! CUNTS!
Nominated by Daz