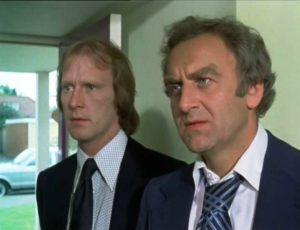 Not being on benefits i can't afford a 65″ smart tv.
Instead I make do with an old 40″ set on which I happily watch old shows from the 70s mostly.
The thing that pisses me off is REVISIONIST TV EDITING which in mho deserves a cunting.
When I'm watching an episode of The Sweeney for example I don't want some of the best and funniest bits removed. For example when Regan refers to "aussie hoofs" (poofs) or when Carter sarcastically pretends to be "glad I'm gay". All references to slags or sluts are taken out in fact anything demeaning to gays or women. This is the 70s for fecks sakes!!! Leave it how it was made. Nobody under 30 will be watching anyway they lack the nous to follow a real plot unlike the infantile Killing Eve.
Nominated by Lord Helpuss