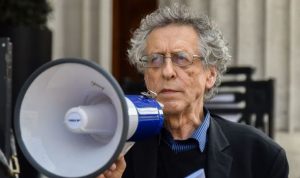 A gather round, crowd-funded cunting please for the old wreck of a man who happens to be Jeremy ("I nearly ran the country you know") Corbyn's brother, who has been arrested for encouraging a lot of brainless wankers to "protest" at the lockdown (no he probably doesn't know it has been eased).
What a family that bunch of working class hero arseholes are (though there were not that many Piers, Jeremys, Hilarys or Harrietts in the working world I worked in).
Apart from the fact that the lockdown is hardly being observed today, just one of the crowd who gathered there today with their fey theatrical hugging could pass the virus on to who knows how many people, then magnify that to the rest of the twats who might be carrying it.
Nominated by W. C. Boggs