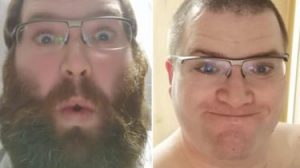 John Adamson.
Since the tiddlywinks unleashed bat flu on the world its given the green light for a whole plethora of cunts to crawl out of the woodwork who would normally pass under the radar, with one being care assistant, John Adamson.
Poor Mr Adamson has been sharing the trauma of having to shave off his impressive beard so that he can wear a face mask and do his job safely.
"I had to make the decision to swallow my pride and shave it off. At first I got my clippers and started to shaving the sides as I was trying to see if I could keep some of it. But in the end I had to take the whole thing off. Its devastating because its like an arm or a leg to me."
Get a fucking grip cunt, its stories like this and dancing nurses that will quickly evaporate any goodwill and respect for NHS staff during this pandemic. I thought this may have been a peaceful before I read the article and was suing for racial discrimination and hurt feelings. Maybe they will organize a 'Clap for deceased beards' at 8.00pm next Thursday.
Nominated by Liberal Liquidator