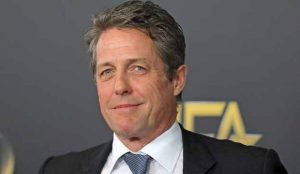 Luvvies please stand in front of your makeup mirrors – the ones with the lights all round them – to cheer that hoity-toity-upper-class-twit-of-the-year- pansy , your fellow thespian, Hugh Mavis Grant
Hughie-duckie obviously has designs to follow fellow nancy Eddie Izzard into the oh-so-super world of politics, by sharing his thoughts, such as they are, on the Coronavirus epidemic. I agree not every action the government has taken would have been what I would have suggested, but they are there to govern. Grant is merely there to prove what an arsehole he is.
He might be a minimally talented actor laddie, but I am sure his fellow nob-polishers will assure him "darling, you were wonderful" (years ago perhaps). Now he just looks like Kweer Charmer's slightly raddled sister.
Nominated by W. C. Boggs
apologies to our esteemed contributors for the technical error which was temporarily missed due to a fine Sunday dinner with five bottles of red. Thanks must go to the rightly esteemed honourable member, SIR D.Fiddler, for pointing out this atrocious lapse in administerial duty. The sixth bottle shall be toasted to your wonderful hounds good sir.
Please carry on Cunting, good sirs.