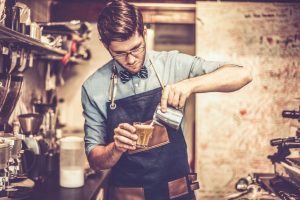 COFFEE DRINKERS:-
An ooh-get-the-madam pretentious? – moi? cunting please for the new trendy snobs – "serious" coffee drinkers. At one time wine connossieurs were considered the most asinine pretentious motherfuckers in the world, but the post Maxwell House soy boys have managed to outdo them, even garnering serious articles in the City AM newspaper:
Of course, pansy "City boy" poseurs have always tried to make an easy job hard, their way of appearing macho in a soft as shit world – half an hours hard exercise in a Bishopsgate gym, before applying the "discreet" makeup to cycle the 500 yards back to the office (a final dusting of powder after removing the cycle helmet – can't have a shiny nose when arsehole crawling to the lady boss).
This article (online only as there is no printed hard copy at the moment), even suggests getting scales to measure out the coffee beans – even the wine lovers didn't go that far!. Go on lads, go and just get a bottle of Camp coffee and a tin of Ideal Milk like we did in the fifties and stop being so fucking arty-farty.
Nominated by W. C. Boggs