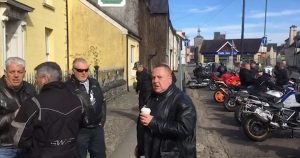 Being a biker/cunt, I think we get a raw deal for speeding, number plate size, noise, riding like a twat and lots of other things. I'm guilty of most of them, but I have just seen a video on the news about a group of wannabe adventure riders – you know the type: BMW capable of riding to Mars and back, fat, sweaty wanker who can hardly get his leg over the fucking thing (all the gear, no fucking idea, middle-aged fuckpigs).
These fuckpigs have decided to congregate outside the West End Cafe (shouldn't that be shut?) in Llandovery, drinking coffee, chatting and hanging around in a small group less than 2 metres apart. Anyway, a slack jawed yokel has been filmed telling them to fuck off.
So fuckpigs, the bikes are for riding, not standing next to, you lazy cunts. Don't add yet another problem to biking, you cunts. We are already unpopular enough, especially in Llandovery – the place is only on the map for the great roads, Duffy and that's it.
Don't fuck it up.
Nominated by Fuglyucker