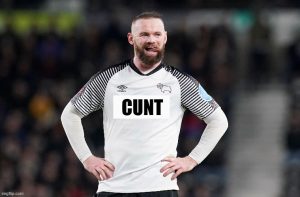 A half-time bucket and sponge and orange cunting please, for the old granny-shagger himself. Poor old Wayne, who looks as if he is wearing the lavatory brush round his chin, thinks he and his footballing friends have been treated as "guinea pigs":
https://www.bbc.co.uk/sport/football/51896488
Certainly paid more than a guinea, though. If any member of his family fall ill, he is promising, er, sorry, threatening never to play again – so every cloud has a silver lining.
I am sure all manner of NHS staff are in much more immediate danger than a bunch of posing footballers.
Nominated by W. C. Boggs
Yes, the spud-faced scouser with pubes stuck to his head is having a tantrum over the coronavirus. Perhaps because the bingo halls are now shutting and he can't hang around outside to bother the grannies?
Perhaps. But it seems it's because he thinks multi-millionaire footballers like himself, are being used as guinea pigs, as they were 'forced' to work as the virus starting spreading. Now 'Wazza' is off work and will be for some months, on full pay. Wazza has homes all over the place, millions in the bank and he and his wife and kids, are in the extremely low risk group (he would've said if anybody wasn't) when it comes to the Coronavirus. If needed, he can afford the very best care.
Wazza, who hasn't had a decent game for about 10 years, is now threatening to quit the sport due to being used in such a way. That is, being regularly tested (so he can be treated quicker than anyone else) and being paid about 80 grand a week to sit at home.
Mr Potato Head also fails to mention that there are thousands of care workers, hospital workers, shop assistants and other workers in ordinary jobs working through this mess and putting themselves at risk of infection. Many who work in jobs like the catering industry (and many other jobs in general) are being laid off without pay. These people can't pay their rent/mortgage or buy food now. Businesses are going to the wall and this cunt thinks he's the one needing sympathy?
Fuck this granny shagging, spud-faced, pube-bonced, entitled, out-of-touch, scouse retard.
Nominated by Cuntybollocks